For months, businesses across industries have been improving their digital profiles by adding user-friendly capabilities to their websites to adapt to the changing online norms of consumers. Users have more expectations with regards to website usability and a greater demand for immediate, personalized information. In the multifamily industry specifically, no-contact touring options, virtual amenity scheduling, 3D renderings of floor plans, and other virtual-based tools have allowed property managers to entice and connect with prospects from a distance. The advancement of artificial intelligence is giving multifamily communities an additional opportunity to increase apartment occupancy, engage with prospective renters, and streamline leads into leases via apartment chatbots on websites.
Chatbots On Apartment Websites
Apartment chatbots on multifamily websites are automated conversation interfaces programmed to interact with users about specific subjects. Chatbots combine artificial intelligence with online chat capabilities so apartment communities can offer users immediate support and answers to their questions regardless of the time-of-day or staff availability. In the multifamily industry, AI-powered tools that automatically generate conversations have a reputation for being impersonal and, consequently, ineffective. This is simply not the case, however. Below, learn how the implementation of apartment chatbots on websites improves the user experience and complements multifamily marketing efforts by increasing online interactions and streamlining leads from prospective renters.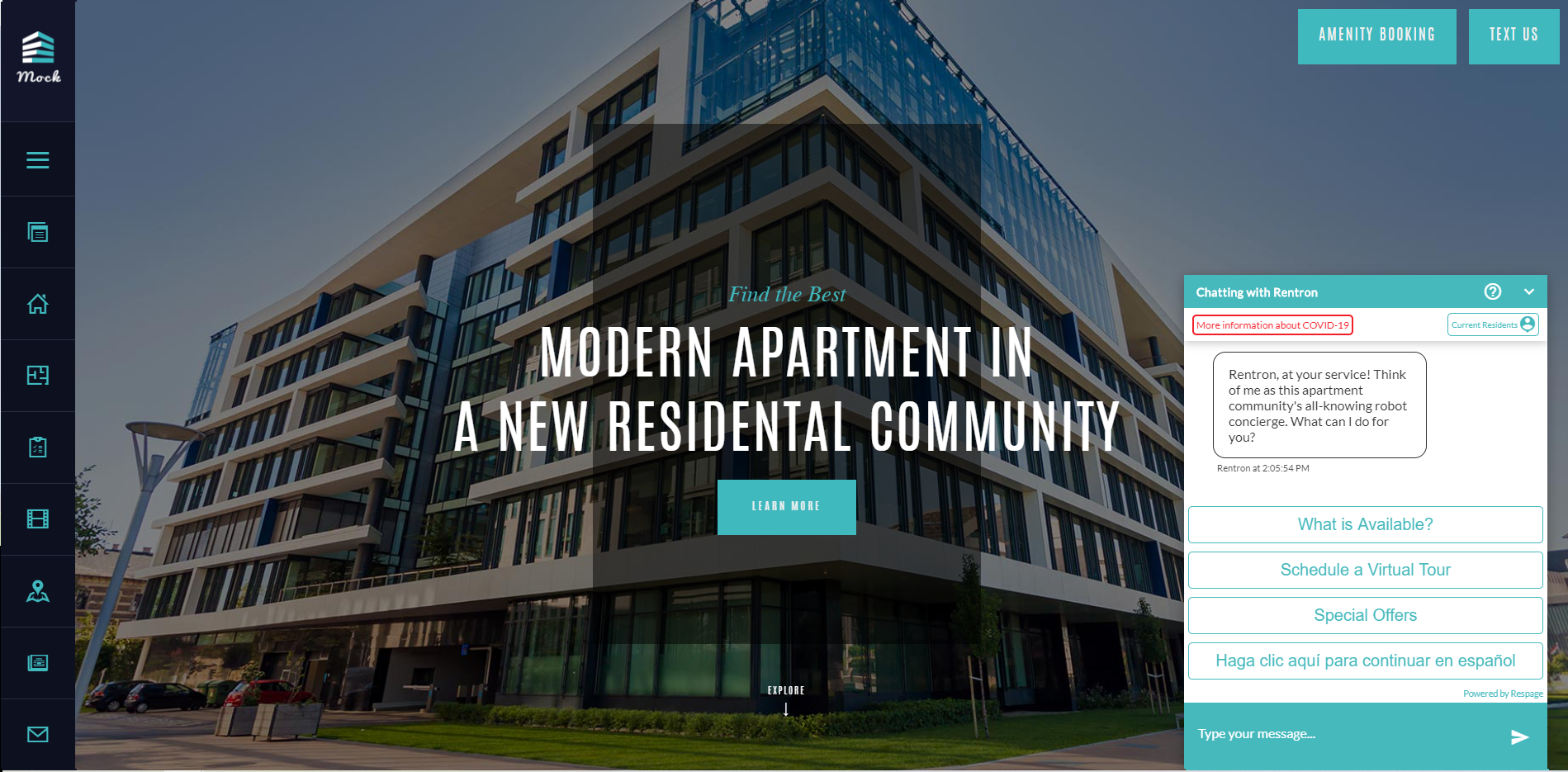 User Specific Experience
Apartment chatbots provide hyper-focused messaging to address users' specific questions or concerns. Customizable software features accessible in many chatbots help further personalize automated conversations without sacrificing efficiency. For example, you can add character traits like humor so your chatbot emits a humanistic quality and reflects your community's personality. Simultaneously, apartment chatbots can generate potential responses for users to ensure the conversation stays on track to give accurate and timely information.
Affordable, 24/7 Communication
Multifamily chatbots act as 24/7 virtual leasing agents with minimal associated costs following the initial setup fee. While human agents are unavailable after-hours, automated chat systems maintain consistent, immediate response times throughout the day. As a result, you will never miss out on an opportunity to interact with a potential lead because of limited staff or office hours.
Streamline Lead Generation
Streamline a prospective renter's apartment search by relaying unit availability, pushing specials, and scheduling tours all via your website's apartment chatbot. By guiding users through the search process in one place, you increase the likelihood of obtaining a valuable lead and decrease the chances of losing that lead along the way. Chatbots also save all conversations with users, so your human leasing agents can follow up with a potential lead accordingly.
A redesigned, user-friendly website is a must these days in the multifamily industry, and it is important to include a direct line for users to reach you. Apartment chatbots make your website easy to navigate by immediately bringing users the information they requested and ensuring they have a constant and reliable medium to reach you. These interactions increase the likelihood of a qualified lead with little effort on your end.
Questions about how apartment chatbot websites can boost your marketing efforts? Our skilled team of marketers can help! Whether you're looking to increase engagement on your website, improve your social media game, or need a new website entirely, we can help you achieve your digital marketing potential.