Rittenhouse Claridge
Rittenhouse Claridge is a community located in what many consider to be the best neighborhood in Philadelphia: Rittenhouse Square. They needed a website that would be as impressive as their amenities which had been upgraded and expanded during a recent renovation. They also wanted to showcase original video footage of the community.
As an experienced multifamily marketing consulting company, we created a site that automatically runs their video right on the home page, in full-screen width, when the site is loaded. The easy-to-navigate site makes it simple to discover their full list of amenities, which includes everything from a doggy spa to a wash and fold service. We also added a comprehensive residents' section that allows them to further their sustainability initiatives by eliminating move-in packages. In addition to providing information about everything you need to know when you move in, it serves as a tool that any resident can use. For example, you can reserve the conference room or a guest apartment, see when the fitness center classes are running, and learn all about the services and features that the community offers.
Thanks to the new website, and supporting SEO services, Rittenhouse Claridge generates up to 6,000 visits a month, and in most months, generates more leads and leases than all other lead sources combined.
Services
Web Designt
Web Development
SEO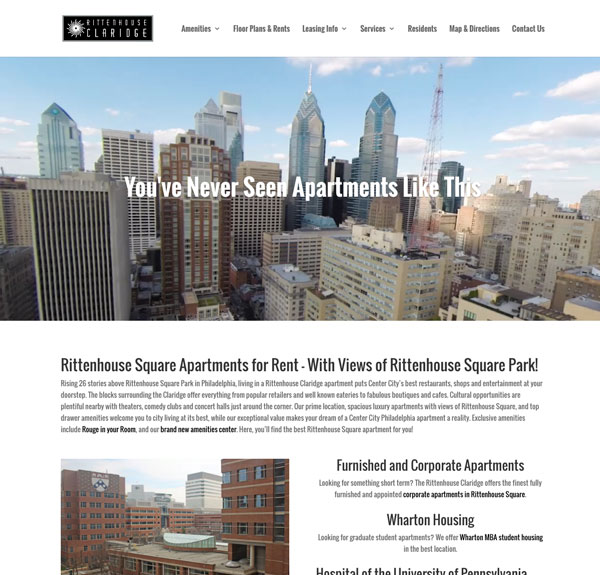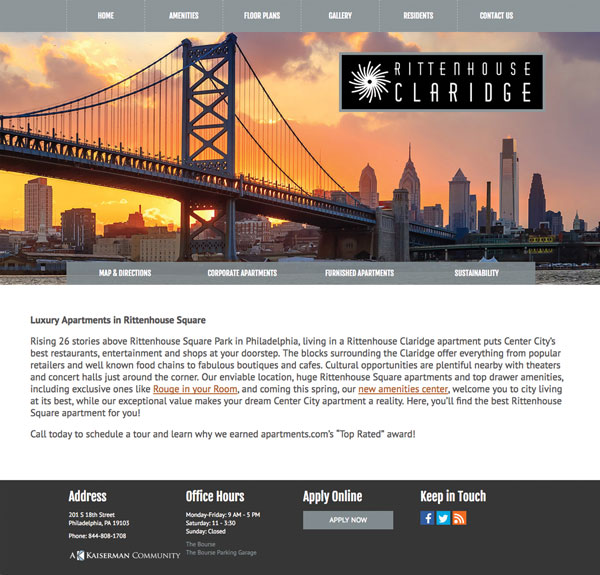 Click and drag the arrow from left to right to view before and after.